PRIMERA SIGNATURE SLIDE PRINTER
Product Overview
Printing slides on-demand reduces errors and increases efficiency.
Primera's Signature Slide Printer can significantly increase the efficiency of your lab while helping to reduce the risk of misidentification of specimens. It prints directly onto slides, eliminating handwriting or expensive, difficult to apply xylene-resistant labels. With impressive 300 dpi print resolution, you can print text, graphics and logos along with high-resolution linear and 2D bar codes on every slide you process.
Signature is also the world's first and only COLOR slide printer. This revolutionary feature lets you purchase and keep inventory of only one slide colour – plain white. With Signature, you can print a wide range of colours and patterns for faster identification.
Key Features and Benefits:
On-demand, full-colour or black printing text, graphics, linear
and 2D Barcodes
Reduce inventory hassle of various coloured slides by using just
a white Slide and print with color
Print speed up to 9 slides per minute
Output capacity: 15 slides internally / unlimited externally
100 slide capacity cassettes with programmable identification chip and slide counter
Prints directly onto slides – eliminates handwriting or labels that are hard to apply and can potentially fall off or cause jams in your slide processing instruments
Small footprint – fits perfectly next to the microtome or the slide processor
Chemical and UV resistant print to withstand processes, commonly used in laboratories. Even after several years slides can be reliably identified
Free PTLab Software – template-driven software for your individual design and data workflow and configurable data stream connection to LIS systems
USB Interface for easy direct connection to Windows based PC´s and Tablets
Environment friendly lowest energy consumption in the market and recyclable non hazard materials
Two years warranty (after product registration within 6 months)
Easy to Use
Signature is designed for efficient, hands-free operation. Slides are stored in easy-to-load cartridges – away from dust and other potential contaminants. It takes just a few seconds to change out the cartridge if you need standard slides for one study and positively-charged slides for others. The level of slides remaining in a cartridge is easily viewed through the cartridge's transparent blue LED backlit case.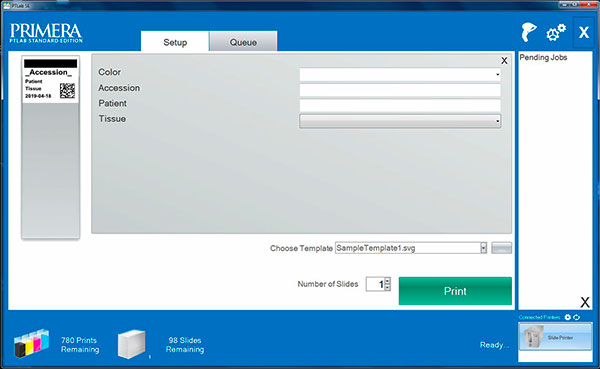 Optional PTLab™ Software
PTLab Software was designed by Primera specifically for use with Signature-Series Printers. It can be installed on any Windows 78.110 PC, including Primera's optional all-in-one touch screen PC. With PTLab, you'll be up and running and printing full-colour slides in just minutes.
First, the lab administrator designs the templates that define the information that is required on the slides including fixed and variable fields. The print area is completely customizable. Or, you can choose from any of the included standard templates. After the template(s) are designed, the editing function is locked by password.
The lab tech then scans the 2D bar code printed on the vial, tissue cassette or other specimen container. Information contained in the bar code is automatically populated on the slide. Information can also be entered via the keyboard or touch-screen PC. The number of slides that have been ordered for that study are then automatically printed.
Printing only the slides you need, when and where you need them, helps avoid potentially serious patient safety errors.
Several Configurations Available
Printers are available for 3rd party integration as well as in complete, stand-alone systems which include printer, software, scanner, keyboard, mouse and mini-PC. Most components (except the printer and mini-PC) are medical-grade IP68-rated for water-resistance. IP68-rated components can be disinfected with typical hospital cleaning solutions.
Innovation at a New, More Affordable Price
Even with its high-resolution, full-colour printing capabilities, Signature costs less than all other monochrome-only slide printers currently available. For the first time, you can afford to de-centralize slide printing and put an on demand, direct-to-slide printer at each workstation. You'll reduce the chance of errors, have a more efficient workflow and save time and money by inventorying only white slides.
The Signature Slide Printer represents true innovation for Pathology, Cytology and Histology labs as well as other medical, educational or research organizations that need to print slides on a regular basis.
Printing technology:
Thermal transfer
Print speed:
Up to 9 slides/minute (monochrome)
Up to 5 slides/minute (solid colours)
Up to 4 slides/minute (process colours)
Print resolution:
300 dpi
Ink type:
Resin thermal transfer
Ribbon types:
CMYK: 1000 prints
Black: 5000 prints
Printable colours:
8 solid colours; plus pattern options
Slide Types:
Slides with white respectively coloured matte end, suitable for thermal transfer printing, preferably with clipped corners of 45° and ground edges
Slide capacity:
100 slides
Output tray capacity:
15 slides
Construction:
Steel frame with powder-coated steel and plastic covers
Cabinet colour:
Medical white
Data interface:
USB 2.0
Printer drivers:
Windows™ Vista/7/8/10
Dimensions:
21.8x18x32cm (HxWxD)
Weight:
Approximately 7.62 kg
Power requirements:
110-240VAC, 50/60 Hz, 60 watts
Warranty:
One year parts and labor, gain a second year if product gets registered within 6 months after purchase; extended and hot-swap warranties optional