DISC Medical PACS Archive
IMPAX 6 is a next generation Picture Archiving and Communication System (PACS) from AGFA Healthcare, designed to streamline enterprise image workflow and deliver increased efficiency and productivity to a care facility or hospital.
It is a single workflow-based system that can serve the needs within, and outside, the walls of a healthcare facility. By providing an electronic workflow system, streamlining study reviews, offering a persona-based design, and enabling improved reporting and results distribution, IMPAX 6 adapts to the PACS and RIS needs of your specific workflow.
When integrated with IMPAX RIS and Reporting solutions, IMPAX 6 can deliver a consolidated view and centralized management of patient image and information data.
The DISC BD series optical libraries provide for the centralized Write-Once storage of IMPAX PACS images and RIS data for long-term compliant archival storage and retrieval.
Providing 100% seamless integration as a standard Windows CIFS mapped drive share or NFS mount point, the DISC BD/BDXL-series libraries are an ideal choice for HIPAA-compliant long-term storage requirements.
Each DISC BD/BDXL-series library can either be rack-mounted or free-standing and is available in a variety of capacity and frame sizes to meet your unique storage needs. A dedicated network-attached storage (NAS) server provides seamless network connectivity to all IMPAX PACS/RIS clients over a GigE LAN with no local client agents required.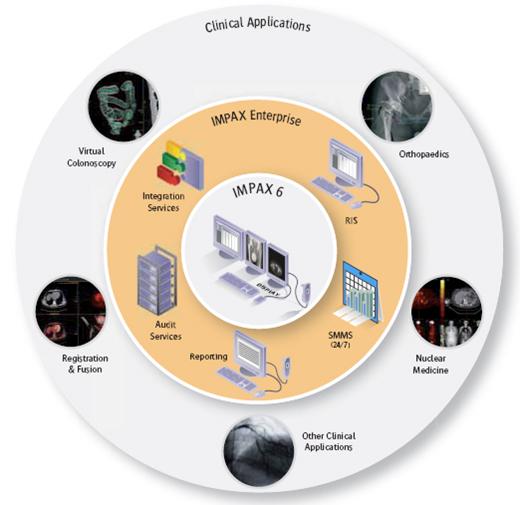 Each BD/DVD disc generated by the Agfa IMPAX archival system can be read on any other Agfa IMPAX system and can be made available to Linux, MAC, Unix or Windows network clients. Each DISC BD/BDXL-series library comes integrated with either 50GB Blu-ray or 100GB BDXL Blu-ray automation-ready drives, with media storage slots ranging from 45 up to 690 per frame.
Each library also includes patented removable hot-swappable 15-disc SmartPack technology that provide quick bulk media import/export while enabling robust bare media security for off-line media handling and data management.
Features
Long-term 50+ year archival write-once storage media
Green storage technology providing the lowest power consumption available ( <25BTU/hour and 8watts/TB )
Meets DoD 5015.2, HIPAA, 21 CFR 11, VLER (virtual lifetime electronic record) compliance requirements
SD media format provides for mirroring and data interchange of BD/DVD archive media between other IMPAX systems.
Optional UDF media format available (Contact Agfa for info)
Downward compatible and simultaneous on-line access and support of all BD/CD/DVD media within the same library
Seamless integration to any IMPAX PACS/HIS application, server and network via industry standard CIFS/NFS protocols as a standard share/mapped drive/mount point, compatible with native operating system ACL's/security
Flexible media and library partitioning, file spanning SDF, optional Real-time mirroring and DR capabilities
Provides ability to access on-line, near-line and off-line data to meet time-to-data compliance requirements
SmartPack media management offering hot-swappable media exchange and secure handling of removed media
Available thru Agfa IMPAX PACS/RIS resellers worldwide
On-site Warranty and Support available worldwide