Label printers SQUIX
Product Overview
Flexible printers for industrial applications
The professional SQUIX label printers are the further development of the successful A+ printer series. They fit with a wide range of industrial applications. They have been developed with focus on easy and convenient operation and high reliability.
The print mechanics and the chassis are made of high-quality materials and perfectly match in terms of shape and function. A large number of peripherals and software enable customer-specific solutions.
Whether they are operated in stand-alone mode, in a PC application or within a network – the rugged SQUIX printers are always up to the mark. The high-speed processor ensures fast print job processing and immediately provides the required label.
Sample applications
reliable and fast printing
accurate imprint
compact, appealing design
easy operation
little footprint
PCB labels
When only little space is available – smallest label size 5 x 5 mm
Type plates
Pin sharp fonts, graphics and barcodes up to 600 dpi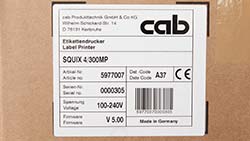 Cardboard box and pallet labels
up to a passage width of 120 mm
Industrial printers SQUIX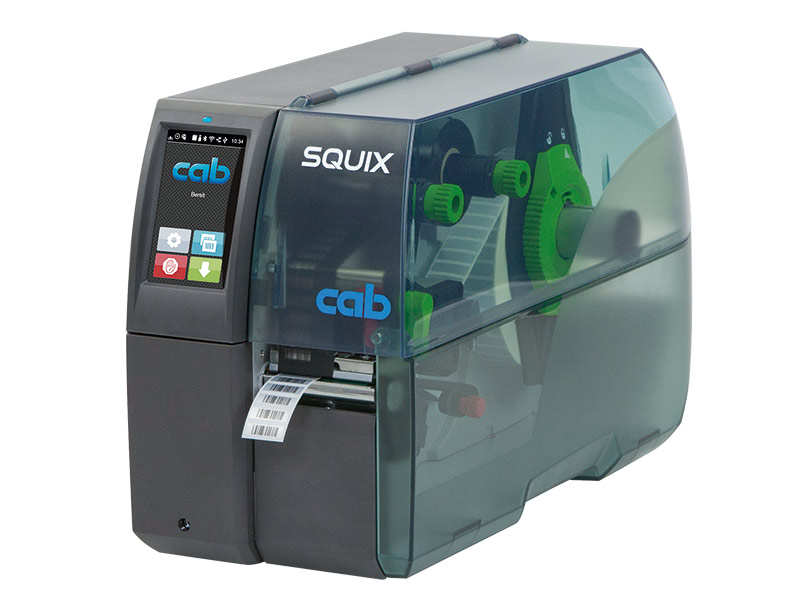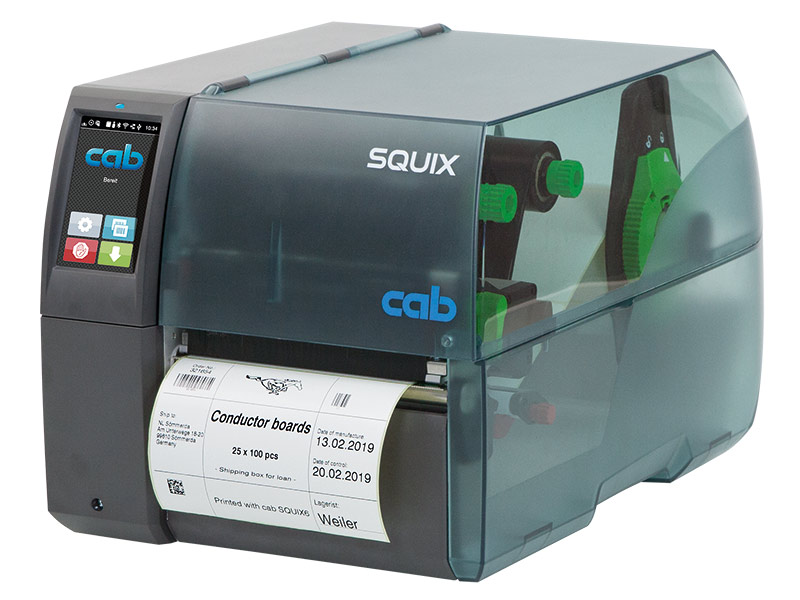 The slim one
for small labels when little footprint is available
1.1 Label printer
SQUIX 2
Printable resolution dpi
300
600
Print speed up to mm/s
250
150
Print width up to mm
56.9
54.1
The universal one
The best-selling industrial device with a wide range of accessories.
1.2 Label printer
SQUIX 4.3
SQUIX 4
Printable resolution dpi
203
300
300
600
Print speed up to mm/s
250
250
300
150
Print width up to mm
104
108.4
105.7
105.7
The wide one
for Odette and UCC labels in applications in logistics
1.3 Label printer
SQUIX 6.3
Printable resolution dpi
203
300
Print speed up to mm/s
250
250
Print width up to mm
168
162.6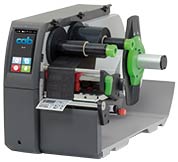 Basic versions
for printing on labels and continuous materials that are wound on rolls or fanfold. The material is separated at the jagged tear-off edge. Optionally, it can be cut or externally rewound.
Peel-off versions P
In addition to the basic version the labels can also be dispensed. The label is separated from the carrier material after the printing. It can be removed manually or by an applicator. Delivery includes I/O interface
SQUIX label printers with centered material guide