SQUIX 4 M
Product Code :
Availability : In Stock
The SQUIX 4 M label printers are the further development of A4+M. The professional SQUIX label printers fit with a wide range of industrial applications. They have been developed with focus on easy and convenient operation and high reliability.
Label printers SQUIX M series
Material guide


centered



1.4
Label printer
SQUIX 4.3 M
SQUIX 4 M
Material feed
centered
Printing method: Thermal transfer

Printing method:

Thermal direct
-
Printable resolution dpi
203
300
300
600
Print speed up to mm/s
250
250
300
150
Print width up to mm
104
108.4
105.7
105.7
Print start: Distance to locating edge
centered on material
Material
Roll, fanfold, reel: Paper, cardboard, PET, PE, PP, PI, PVC, acrylate, Tyvec

Roll, fanfold, reel:

Smart Labels

Roll, fanfold, reel:

Ready-for-use shrink tubes

Roll, fanfold, reel:

Pressed continuous shrink tubes

Roll, fanfold, reel:

Textile tapes
Labels1) Width mm
4 - 110

Labels

Height without label backfeed2) from mm
3

Labels Height

with label backfeed2) from mm
4

Labels Height

with label backfeed when dispensing from mm
6

Labels

Maximum height mm
2,000

Labels

Thickness mm
0.03 - 0.60
Carrier material Width mm
9 - 114

Carrier material

Thickness mm
0.03 - 0.16
Continuous material Width mm
9 - 114

Continuous material

Thickness mm
0.05 - 0.50

Continuous material

Weight (cardboard) up to g/m2
300
Shrink tubes Width ready-for-use up to mm
114

Shrink tubes

Width continuous mm
4 - 85

Shrink tubes

Thickness up to mm
1.1
Roll, reel: Outside diameter with core diameter up to mm
205 / 38,1 - 76
180 / 100
Winding
outside or inside
Ribbon3)
Ink side
outside or inside
Roll diameter up to mm
80
Core diameter mm
25.4
Variable length up to m
450
Width mm
25-114
Internal rewinder in peel-off version
Outside diameter up to mm
142
Core diameter mm
38.1 - 40
Winding
outside
Printer sizes and weights
Width x Height x Depth mm
252 x 288 x 460
Weight kg
10
Label sensor with position indication
Gap sensor for
labels, punch marks or print marks in transparent materials and end of material
Reflective sensor from below or top for
print marks in not transparent materials and end of material
Distance sensor from center to locating edge centered mm
0-55
Height of material gap mm
2
Electronics
Processor 32 bit clock rate
800
Main storage (RAM)
256
Data storage (IFFS) MB
50
Slot for SD memory card (SDHC, SDXC) up to GB
512
Differences compared to a left-aligned material guide:
1 Ribbon holder
Easy insertion of the ribbons is enabled with the three-part tightening axles. A preprinted ruler simplifies the adjustment.
2 Roll holder
When setting the margin stop, the material roll is automatically centered. If rolls with 100 mm core diameter are processed, an adapter is recommended.
3 Plungers
Both plungers are fixed for all material widths. No print head settings or adjustments are necessary.
4 Material guide
The material guide just in front of the print roller provides accurate imprint. The material width is adjusted with a spindle.

DR4-M25

DR4-M50

DR4-M80
Slim print rollers
To achieve accurate imprint with slim materials and ribbons slim print rollers are needed. These prevent from print roller wear, print head contamination and errors during material feed.
Coating: synthetic rubber
Operation panel
Intuitive and easy operation with self-explanatory symbols to configure the device setups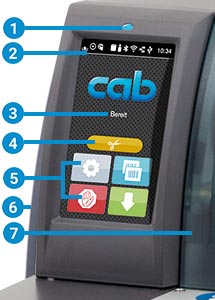 1 LED signal: Power ON
2 Status bar: Data reception, Record data stream, Ribbon warning, SD memory card/USB memory stick plugged in, Bluetooth, WLAN, Ethernet, USB Slave, Time
3 Printer status: Ready, Pause, Number of printed labels per print job, Label in peel-off position, Awaiting external start signal
4

Periphery buttons:
Cutter/perforation cutter: direct cutting
External rewinder: winding outside or inside
Tear-off or peel-off mode: print the next label
Applicator: label application
5 Operation
6 USB slot for the Service Key or a memory stick, to load data in the IFFS storage
7 USB-WLAN-Stick 2.4 GHz 802.11b/g/n included as an extra item in the scope of delivery;
In hotspot mode it is possible to directly connect a mobile device with the printer via WLAN.
---
Print heads