DTM Digital Foil Imprinting System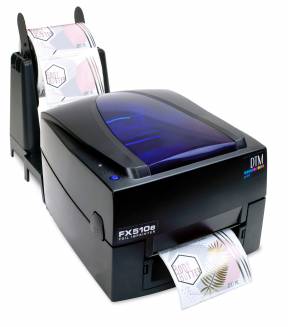 Now you can add brilliant, shiny highlights to your pre-printed or blank labels. It's fast and easy with DTM's new FX510e Foil Imprinting System, also available as FX510ec model featuring a built-on guillotine cutter which allows you to cut die-cut, reflective and continuous label stock.
DTM FX810e Foil Imprinting System
Industrial-grade thermal foil printer for up to 220 mm wide labels with metallic highlights Add sparkling effects to your pre-printed or blank wide format labels or print metallic highlights to transparent and pre-coloured substrates. The industrial-grade FX810e Foil Imprinting System by DTM Print features a robust metal housing and is ready for your heavy-duty jobs. The colour touchscreen simplifies the navigation and offers an intuitive user experience. The optional guillotine cutter (FX810ec) allows you to precisely cut continuous, reflective and die-cut label stock.