DTM Digital Print & Finishing System
The DTM CX86e is the world's smallest LED dry toner colour label printer and helps companies to produce versatile and professional colour labels and tags that maximize advertising impact vs. standard black and white thermal prints.
The OKI Pro1050 LED label printer offers a new flexibility for medium to large run colour label printing. With the unique fifth colour option "white", the Pro1050 takes creativity to a new level: transparent or coloured label materials are no longer a problem!
DTM LF140e Label Finishing System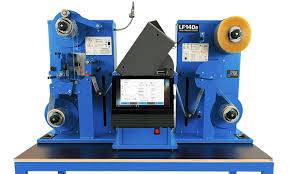 The LF140e is a compact system for simple, fast and cost-efficient label processing on-site. It can be used to handle all the operations involved including unwinding the pre-printed rolls, laminating and digital contour cutting, waste matrix removing, slitting and rewinding the finished rolls. Pre-printed rolls with a media width between 100 mm (3.94″) and 140 mm (5.51″) and a maximum roll diameter of 200 mm (7.87″) can be processed making it the ideal addition for all types of roll printers, such as the inkjet printer LX2000e from Primera Technology, Inc. or the toner-based LED printer OKI Pro1050.